With our move to Virginia getting closer every day, I have been busy going through closets and getting rid of anything that I don't absolutely love and/or see the need to haul across the country. Hubby and I tackled the garage right before he left for Virginia, and the result is a nice sized pile of things for my future garage sale. I kept up the momentum by starting on the master bedroom closet. I was making pretty good progress…….but then, I ran out of boxes. On my way to the store to get some more, I drove past a fabulous garage sale just a few streets over. The last thing I should be doing right now is bringing home more stuff, but I could tell that this was a good sale, and I…. Could…. Not.… Resist. I had been playing around with the idea of doing some kind of picture frame collage above my bed, but had not been able to find frames that I liked, in my price range. Well guess what I found at the garage sale? Yep, that's right, all kinds of great frames and mirrors that ranged in price from $1.00 for the smallest sizes to $5.00 for the largest.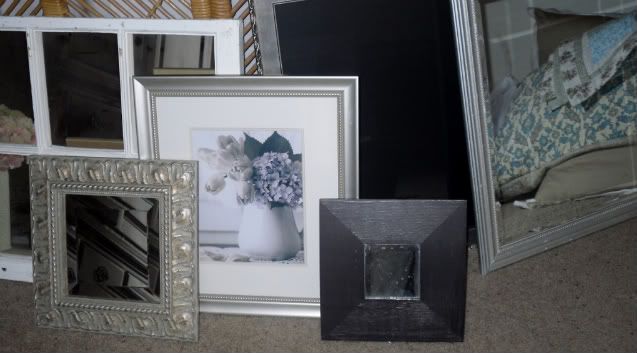 SOLD.
TO ME.
For the grand total of $12.00.
Enough frames and mirrors to do the collage I had been thinking about.
Well, needless to say, the master bedroom closest was put on hold. I know it's silly to spend most of an afternoon doing a decorating project that is going to have to come down again in the next five weeks, but I could not help myself, I was so excited!
Before…..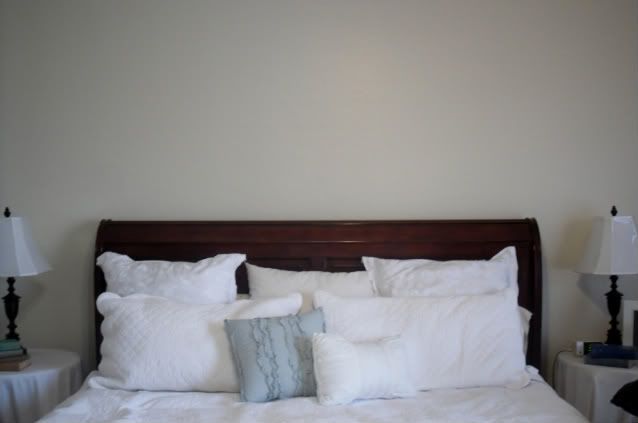 After…..
My original idea was to keep the frames empty, like the ones I saw here and here, but it just didn't seem to look right. Instead, I filled the largest frame with a letter "L" (for our last name), printed in large font, cut out, then glued to some scrapbook paper.
The medium sized pictures were nice, but not the look I was after, so I found some pictures that I liked and printed them out. I then glued those to scrapbook paper and, not wanting to deconstruct the pictures (I may want to use them differently in the future), I just taped the images onto the front of the glass.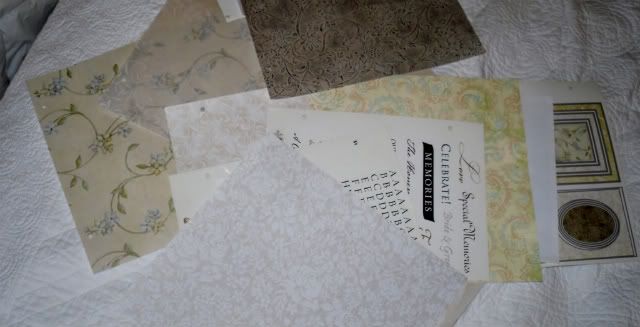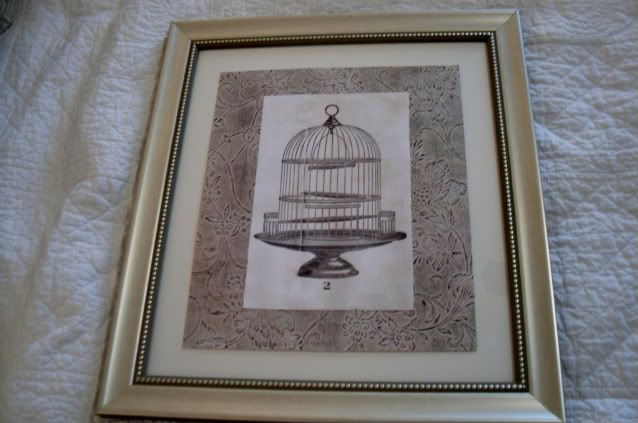 The small mirrors with the thick, black frames, got treated to some sandpaper. I like the little bit of rustic that they add to the mix. The silhouettes are of me and Hubs and were done nearly 18 years ago, when we were still dating! I have recently seen silhouettes on everything from t-shirts to coffee mugs, so I was very happy to put mine to use, after all of these years! I knew they would find their place someday…
So finally, after being patient, I got the look I wanted for
a lot
less money.
And. I. Love. It.

I'm linking up to these fabulous parties!