Christmas Home Tour – Part One
Hello – welcome to Part One of our Holiday Home Tour (you can see Part 2 here)! I'm so excited to be joining Kendra from Joy In Our Home, and 19 other talented bloggers, on this festive, inspirational, Holiday Home Tour! (I'm also linking up to Jen Rizzo's Holiday House Walk Link Party).
Whether you're a regular reader, or just stopping in for the tour – I'm so glad you're here! For those of you who are new, I'm Amy and I live in a small, rural community on the outskirts of Phoenix, Arizona with my husband, two kids, and four pets. We bought our house a year and a half ago and have been working hard to make it comfortable and functional for the way we live. We're a busy family on a tight budget, so progress has been slow, and we've had to get resourceful when it comes to furnishings and home improvement projects. This is officially our second Christmas in this home and we've taken the same resourceful approach to our holiday decorating.
Our home is an open-concept floor-plan and the main living areas (kitchen, great room, entryway and dining room) all flow together so I tried to make sure the decor transitioned easily from one space to the next. Our entryway is where we greet holiday guests and I wanted it to feel welcoming. Some simple garland, a handmade wreath, a cozy fur blanket and a couple of comfy pillows are all it took to cozy up the space.
Some birch logs, antlers, and pine-cones in a sturdy metal basket lend a rustic feel and balance out the softer elements.
Our family/great room is where you'll find us hanging out most often; watching holiday movies, playing games, or relaxing on the sofa.
A couple of new pillows are mixed in with the sweater pillows I made last Christmas, and the fur pillows I purchased earlier in the fall. The wicker basket on the coffee table is dressed up with mercury glass candle holders and ornaments, adding a little sparkle to the space.
The entertainment unit holds some greenery, rustic trees, and a couple of the up-cycled holiday trees I used for a centerpiece vignette a couple of weeks ago (click here to read about it).
Greenery, simple white candles, pine-cones, and sparkly ornaments in a wooden bowl make an easy table-top display.
Our dining room also got the rustic-glam treatment.
I love changing out the chalkboard art for each new season. My daughter is the resident artist, and she re-created a greeting card design from (here).
More pine-cones, greenery, and antlers adorn the sideboard, along with some vases wrapped in birch-bark gift wrapping paper and bits of twine.
The dining room also has it's own mini-tree in a galvanized bucket. I re-used my DIY cotton ball garland from last Christmas, as well some Dollar Store ornaments, and a couple of the birch-bark stars I shared here a couple of weeks ago.
The dining room table also serves as gift-wrap central this time of year. I'm not alone in this, am I?
A little snack to keep me fueled up…
And this guy, watching over the festivities.
The last stop on our tour is the corner of the great room that holds the Christmas tree. I used the burlap garland and the Dollar Store ornaments from last year, adding a few new ornaments picked up for cheap.
We don't have a fireplace or mantle, so the stockings have been hung on the half wall that separates the kitchen from the great room. Hmmm… looks like we've all been good this year!
A faux fur rug acts as a tree skirt and is the perfect spot for our wooden crate advent calendar, which helps fill up the empty space until Santa brings the rest of the gifts in a couple of weeks.
Thank you so much for stopping by! There's still plenty more to see in the Holiday Home Tour – just click on the links below to visit some of the most creative and talented bloggers ever, with homes all decked out for the holidays! And if you'd like to see more of my home, check out Part 2 of my Christmas Home Tour here!
Happy Holidays!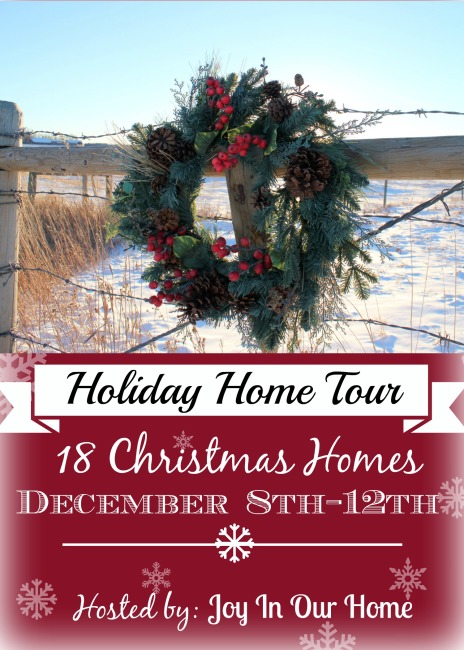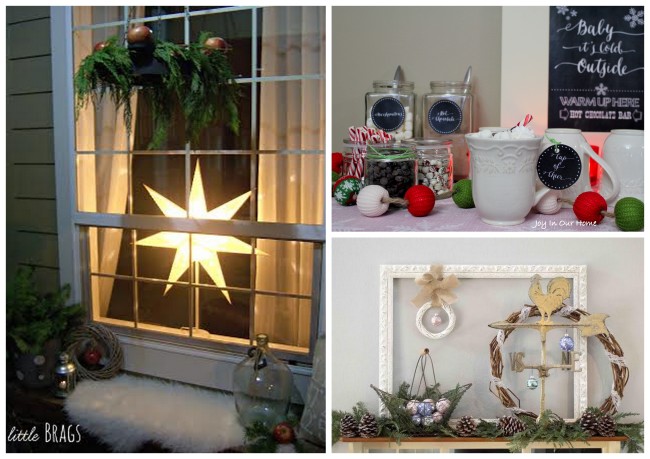 - Monday -
1. Little Brags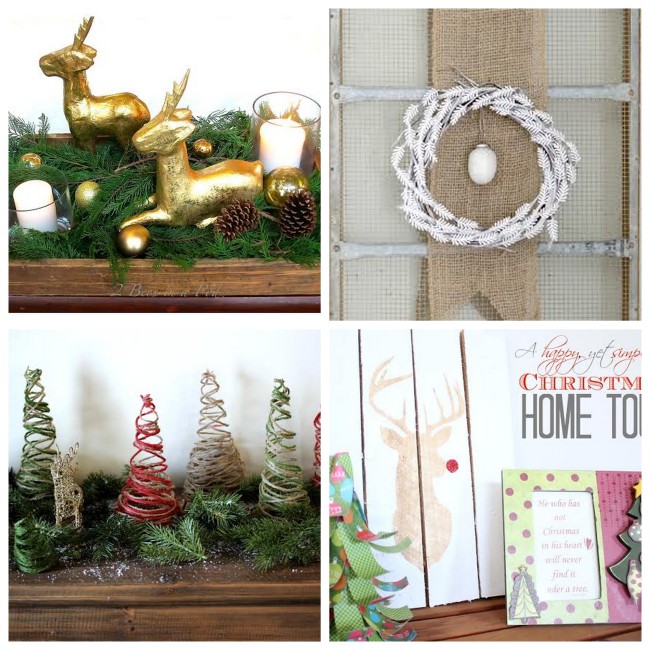 - Tuesday -
4. Shambray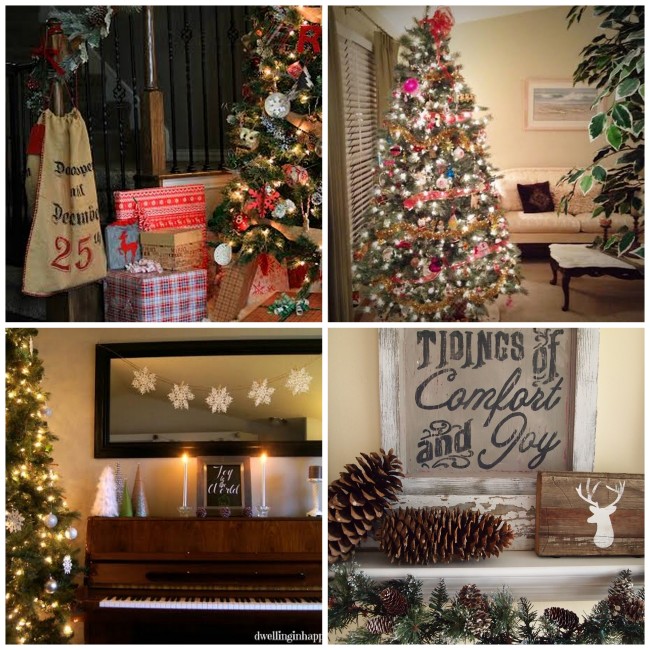 - Wednesday -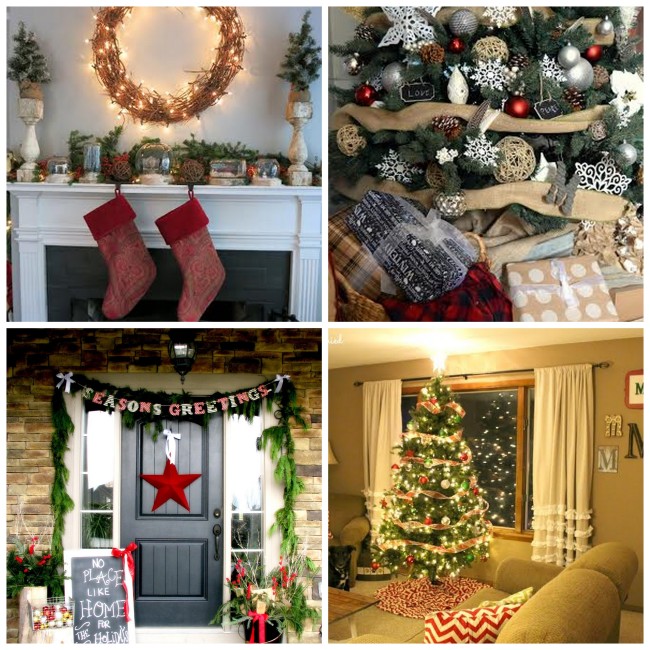 - Thursday -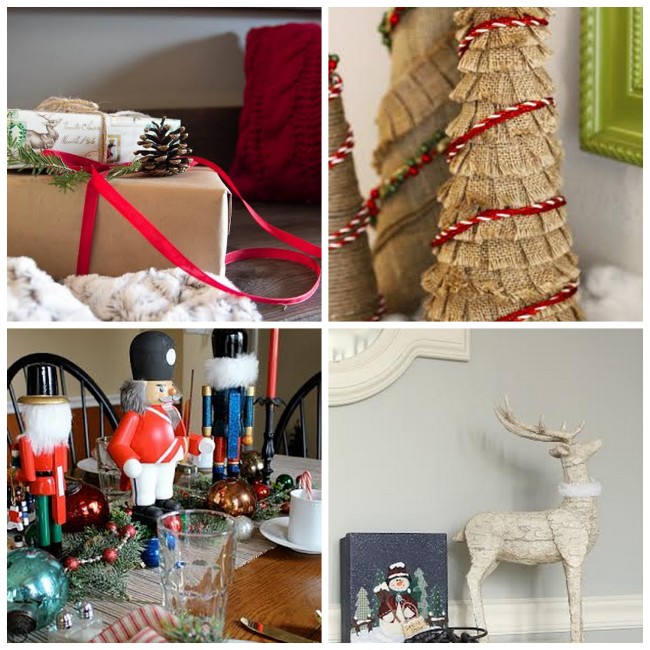 - Friday -
3. Meet the Bs
Sharing Here:
Burlap and Babies